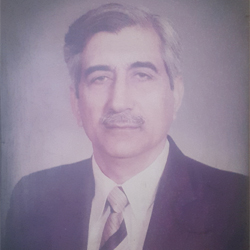 Mr. Rana Shabbir Ahmad Khan (Founder of the institution)
Principal (01.09-69 – 24.11.90)
Islamia College of Commerce was established in 1966 as a private institution to impart commerce education up to intermediate level (I.Com). It was upgraded to degree level (B. Com.) in 1970 when University of the Punjab granted affiliation to college to teach B. Com classes. Degree classes in commerce started in that session. This institution was nationalized with effect from 01-09-1972. It has been functioning under the aegis of Education Department, Government of the Punjab since its nationalization. In 1976, I.Com classes were discontinued and shifted along with staff to Govt. MAO College Lahore.  The college was temporarily shifted by Govt. of the Punjab in 1979, from Queens Road to a portion of the building of Govt. Comprehensive high school, Ghoray Shah Road, Lahore.  In 1987 after completion of the construction work, the college permanently shifted to the Allama Iqbal Town Lahore, having 5o kanals of land earmarked by the Government for the College.
The College has won many distinctions both in academics and in sports.  Mr.  Mir Akhtar Ali of this College stood 1st in 1971 in B.Com part- I examination and maintained his distinction and stood 1st in the University.  The distinction has been regained for the College by Mr. Ijaz Ahmad who stood 1st in the University in the B.Com part-II examination, held in May, 1984.  In 1989 Mr. Imran Aslam was also awarded Gold Medal for his standing 1st in the subject of Advance Accounting by the President of Islamic Republic of Pakistan at the Punjab University Convocation.
The institution has got prestige with the start of Master in Commerce (M.Com) Classes under world – wide renowned University of the Punjab, Lahore.  The affiliation to teach M. Com. Classes was granted by the aforesaid University authorities under Semester System since 1992. The M. Com  morning & afternoon programme has been reinstated under annual system in 2015.  Now M.Com classes for morning and afternoon shifts are successfully running. In addition, the college has also started BBA (BSBA) classes. As per policy and instructions of the government classes of I.Com, B.Com & M.Com in first and second shifts are in operation with an ever increasing turn-up and BBA (BSBA) classes under Semester System is also in operation w.e.f 2019.